Ashley Shumate
Partner & REALTOR®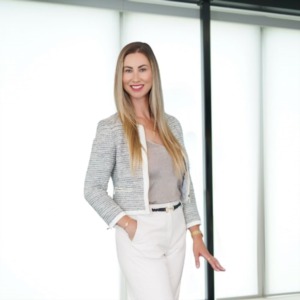 Ashley was 30 years old and living in Regina when she began training to be a Canadian speed skating champion. There was only one problem—she couldn't skate.
Armed with confidence, pure grit and natural athleticism (Ashley was a track and field Canada West Champion, ranked 2nd in Canada, who earned full scholarships to the University of Regina and McGill University), it took Ashley three years to go from no experience in speed skating to Canadian Masters record breaker and top 20 in the 500m long track in the country! Although it was speed skating that initially brought her to compete on the world stage, it was bobsledding that took her on the World Cup tour representing Bobsleigh Canada and made her a Canadian gold medalist. Recognizing her explosive power, speed and talent, Ashley was recruited to the Canadian bobsled team while competing in long-track speed skating. She was on par to compete in the 2014 Sochi Olympics, until a concussion curtailed those plans. A self-proclaimed "retired athlete," Ashley still remains active, doing weight training, playing golf and swimming.
It is that same mettle, determination and effort that Ashley brings to real estate, making her a trusted and tenacious real estate professional with The Affinity Team. Ashley, who is known for her work ethic and strong interpersonal skills, has the same passion for real estate that she had for track, speed skating and bobsleigh.
Ashley, who lives in Erindale, Mississauga with her husband and daughter, Aria, is actively involved in helping her clients buy, sell, invest and flip homes throughout the GTA. An entrepreneur at heart with a strong business sense, Ashley, a former gym owner and current MINDs neurology clinic owner also helps her clients buy, sell and lease commercial real estate.
Apart from spending quality time with her family, it is working tirelessly for her clients— to ensure they find their dream home, or obtain the most for their current home—that brings Ashley pleasure and satisfaction.